Renovatio SRD-9C digits display
Brand:
Renovatio Development
Product Code:
SRD-9C
Weight:
1.00kg
Availability:

In Stock

Price:

129.00€

Incl Tax: 154.80€
9 digits display with advanced informations

FEATURES AND SYSTEM REQUIREMENTS
Size (LxWxD): 139x61x24mm
USB 2.0 Plug and play
12 High brightness RPM LEDs
2x 4-Digits Display
Advanced data (Lap Timing, KERS, DRS)
Race flags
Large compatibility
Microsoft Windows XP, Vista, 7, 8, 8.1, 10
Microsoft .NET Framework 4
10 MB of hard drive space for installation
CD or DVD optical drive
USB 2.0 port
Internet connection for updates

MULTIPLE CONFIGURATIONS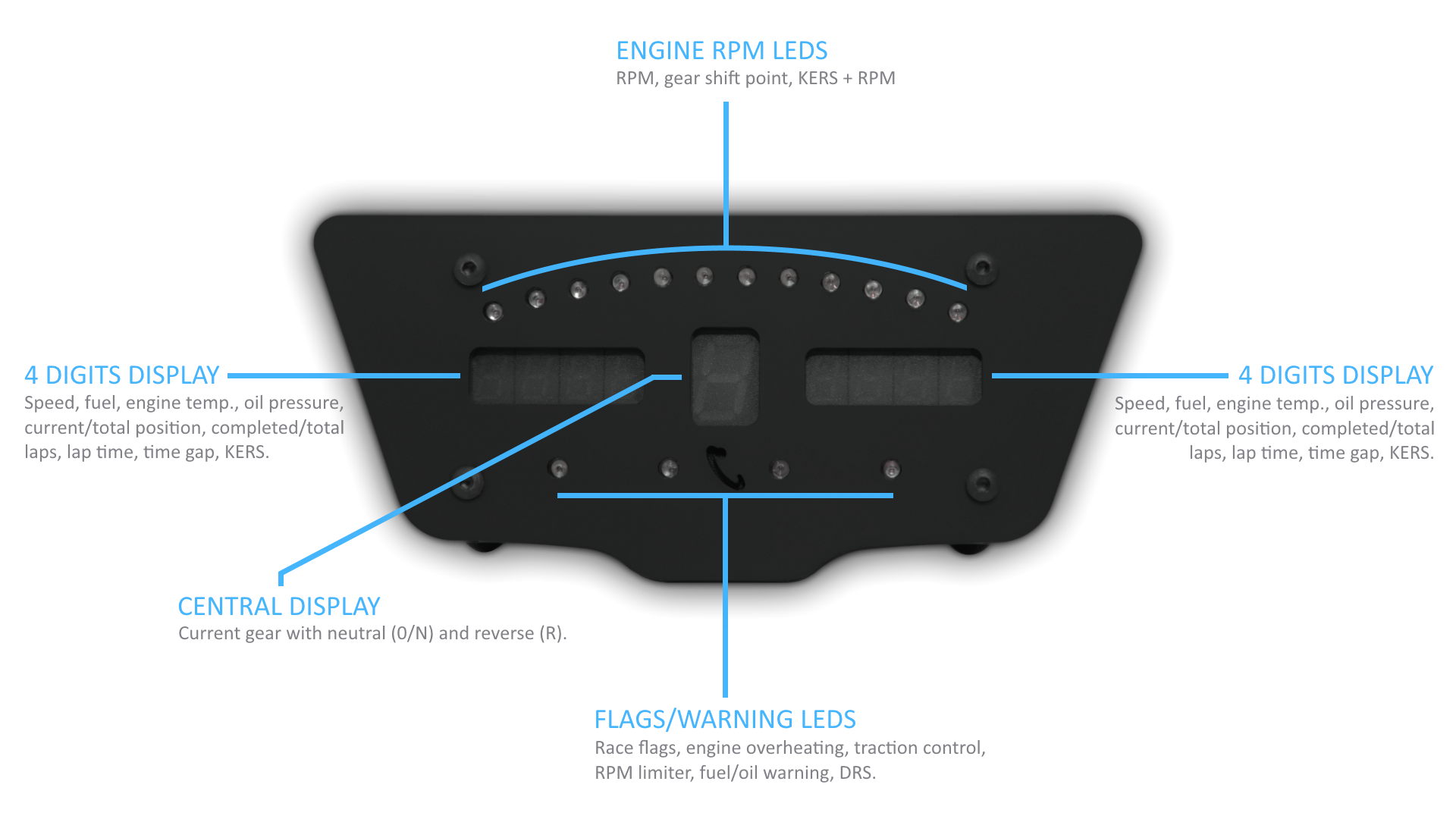 Equipped with a mini USB type B connector on the rear, SRD-9C is designed to get a full view of the parameters of the car and shows a layout very familiar in the world of motorsport including 12 high brightness LED dedicated to engine rpm/shift point (4 green, 4 red, 4 blue), 1 display for displaying the current gear, 2 groups of 4 digits each display for displaying messages and car paramaters like speed, fuel, kers, lap timing and time split sector by sector (+/-), race position, laps completed, engine coolant temperature and engine oil pressure; in addition to this there are 4 high brightness LED located at the bottom (1 red, 1 yellow, 1 blue, 1 green) assignable by the user to display additional information such as fuel/temperature alarms, loss of traction or the flags of the race from time to time set by the commissioners. Supplied the new software SRD Manager 2 compatible with more than 25 games/simulators including the F1™ and DiRT series by Codemasters, rFactor2, iRacing and Project CARS.

SOFTWARE


The SRD Manager 2 is a Windows based application used to manage the SimRDispXX and the SRD-XX dashboard display family. The 2nd generation of the software extends its compatibility to 36 titles adding all the latest racing games and introduces two new features, vTelemetry and vDashboard, to dramatically reduce the gap between driving simulation and real life.

COMPATIBILITY
SRD Manager 2 is currently compatible with the games/simulators* listed below. This list is regularly extended to the latest titles with constant updates**.
Assetto Corsa
Automobilista
Project CARS
F1 2015
DiRT Rally
iRacing
rFactor 2
RaceRoom (R3E)
Euro Truck Sim. 2
American Truck Sim.
GRID Autosport
GSC Extreme
rFactor
Live for Speed
GSC 2013
GT Legends
DiRT 3
DTM Experience
Race 07
GTR Evo
STCC
Race ON
WTCC
Race Injection
GRID
GRID 2
GTR 2
Formula RR1
STCC2
SLF
RBR
rFactor PRO
GameStockCar
ARCA
DiRT 2
Simraceway
F1 2010
F1 2011
F1 2012
F1 2013
F1 2014
DiRT Showdown
---


VTELEMETRY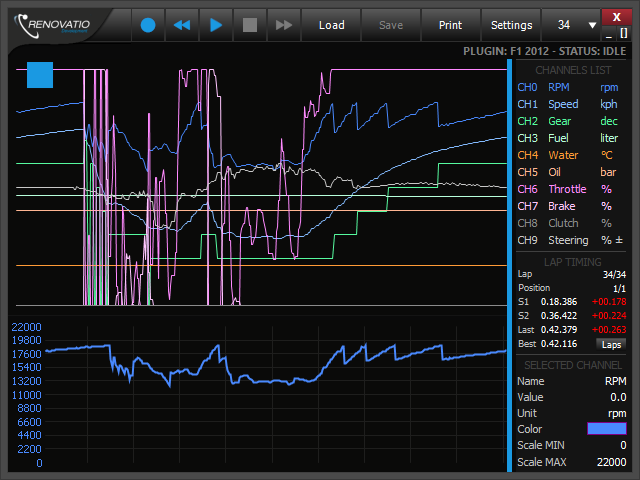 vTelemetryA real time data acquisition and visualization system that works through animated 2D vector based graphs brings you all you need to analyze and compare car data during and after each practice, qualifying and race sessions. Acquire full session data, look at parameters and analyze where you can do better or how you can optimize the car setup for optimal track adaption. You can save, load and print acquired data to compare in future sessions. The Racing World is now in your hands! Identical to what real life teams use to check and optimize their driver and car performance, lap after lap, curve by curve. The vTelemetry graphic interface is totally customizable allowing you to change graph colors, channel colors, Max/Min scale values, enable and disable various parameters and much more that further bridges the gap
---

VDASHBOARD

vDashboard - A virtual desktop dashboard with analog gauges and symbol lights that show the basic car information with a cool graphical user interface. This is an add on for those who prefer the classic old analog instruments that existed in those glorious classic racing cars. All the controls are vector based allowing the user to fully customize them to meet their personal taste.
Write a review
Your Name:
Your Review:
Note: HTML is not translated!
Rating:
Bad
Good
Enter the code in the box below: