Moza R9 V2 and GS V2 Alcantara Wheel Bundle
What's included in the Bundle:


R9 V2 Wheel Base Specifications
We have tested the Moza R9 V2 as well as its big brothers, the R16 and R21 for long hours on all our RSeat range.
We are proud to offer you this range and this new brand for the good of Simracing, as we are convinced that Moza products will satisfy you , impress you , and in the near future surprise you!
MOZA R9 V2 Direct Drive Wheelbase features 9 Nm exceptional torque and professional servo direct drive , which could meet the gaming and training needs of most racers and offer realistic racing experience both on the road and in the car. The R9 V2 Direct Drive Wheelbase also features an intelligent motor temperature control system for monitoring the temperature of the motor and electronic components in real-time to ensure the stable operation in endurance competition through temperature control strategies. Designed with an aviation-grade aluminum alloy body and armed with zero latency wireless technology , the R9 V2 Direct Drive Wheelbase is lightweight, durable, and stable.


Applicable Platform : PC (Windows)
Driving Type: Direct Drive
Maximum Steering Angle : Unlimited
Maximum Torque : 9 Nm
Maximum Power : 180W
Input Voltage : 110V~220V AC - 36V DC
USB Refresh Rate : 1000Hz
Quick Release : D1 Compatible
Connection Port : Starting Switch, Power Supply, Data, Emergency Stop Switch, Display Screen
Mounting : 4 holes on the bottom(RSeat compatible); exclusive holder that supports angle adjustment and side fix; table clamp
Size : 240x157x124mm


GS V2 Alcantara Steering Wheel

Designed with
Forged carbon fibre and Alcantara® made in Italy
, armed with
zero latency wireless technology
, the GS V2 is
lightweight and durable.
Alcantara® Made In Italy
Forged Carbon Fibre Framework & Shifter Paddle .
To 300mm GT Standard Wheel. Grab ahold of the GS V2 wheel and have a real racing experience.
Dual Clutch Magnetic Shifter Paddles The contactless photoelectric technology makes the paddles extremely reliable. Efficiently perform a dual clutch start in iRacing and F1 races. Avoid powertrain damage caused by shifting errors.
Customized Quick Release Switch the GS V2 wheel in split seconds. The GS V2 wheel uses a quick-release system derived from the steering wheel systems of real race cars. Ensuring a stable connection between the wheel and the wheel base.

10 Luminous Programmable Mechanical Keys. There are 10 illuminated programmable mechanical keys. Clearly feel each keypress with a satisfying click. The keys have 8 different color options.

Ergonomical Design The hand grips on the GT wheel offer the driver a comfortable but firm grip. Allowing the driver to maintain perfect control, even against the strong force feedback of R21. From the thumb knobs to the shifter paddles, all buttons are ergonomically positioned for quick access.

RGB Sequential Shifter Light Indicator. The sequential shifter has 7 adjustable colors. Drivers can customize the speed, the colors, and more.



Specifications

Grip Material : Alcantara® made in Italy
Frame and Front Plate Material : Forged carbon fiber
Shifter Paddle Material : 3 mm-thick forged carbon fiber
Size : 300mm GT standard wheel
Magnetic Shifter Paddles : 2
Dual Clutch Paddles : 2
Luminous Mechanical Keys : 10
Thumb Knobs (pressable) : 2
Band Knobs : 5
LED Lamp Beads RGB: 10
LED Colors : 7 for customization
Intelligent Telemetry : YES
Knock-Down (K/D) Method : D1 spec quick release
Paddle Sensor : Contactless photoelectric sensor
Dual Clutch Shifter Paddle Modes : Synthesis axis/Independent axis/button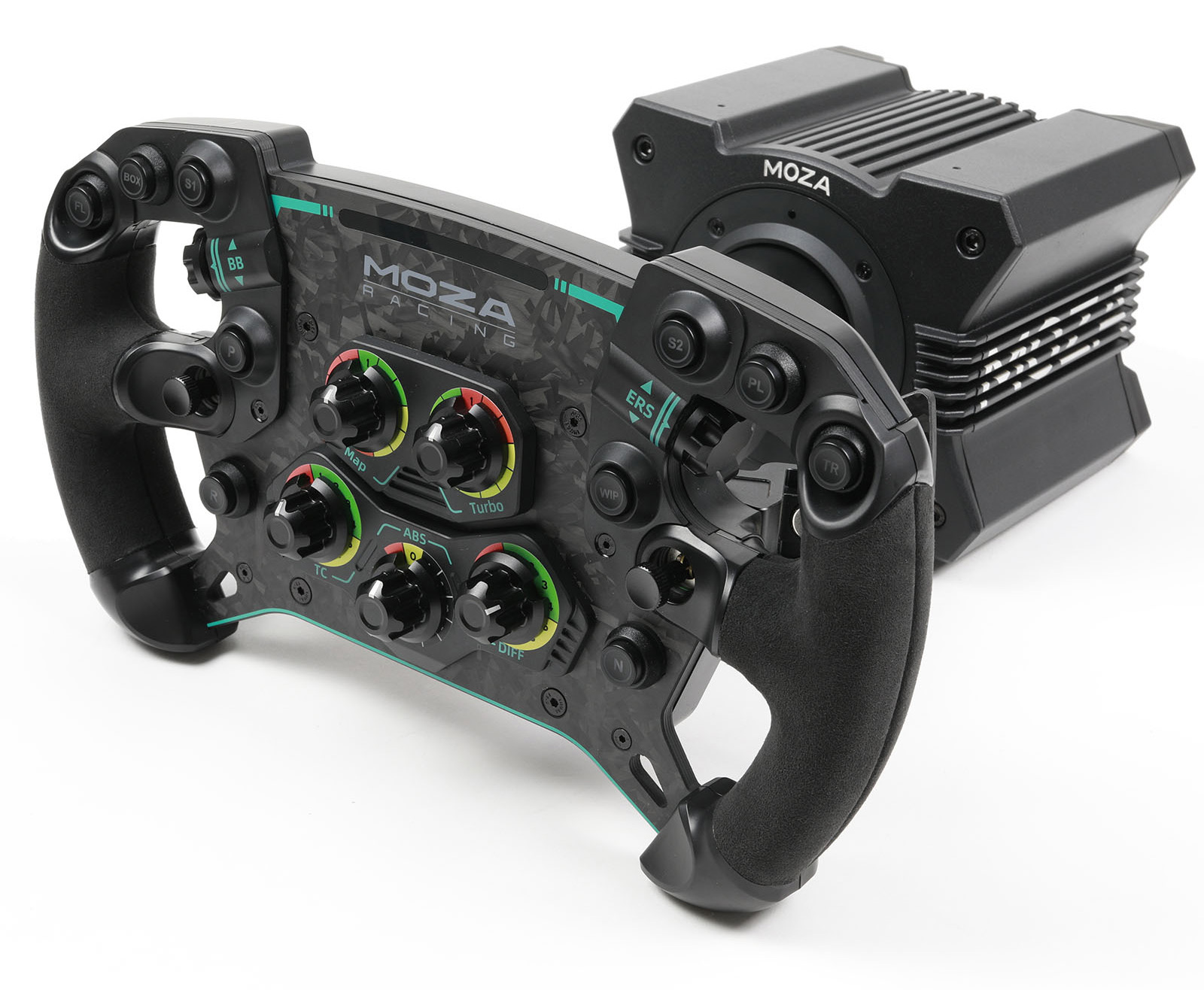 Compatible Games with Moza Racing products




Assetto Corsa
Assetto Corsa Competizione
Dirty Rally
Dirt Rally 2.0
Dirt 4
F1 2018
F1 2019
F1 2020
F1 2021
Project CARS 1
Project CARS 2
Project CARS 3
iRacing
Forza Horizon 4
Forza Horizon 5 (Win 10)

Live For Speed
Automobilista
Automobilista 2
rFactor2
Euro Truck Simulator 2
American Truck Simulator
KartKarft
WRC 9
WRC 10
BeamNG.Drive
MudRunner
Wreckfest
RaceRoom Racing Experience








France Simulateur SARL, ensures the consumer that Moza Racing products only purchased from France Simulateur SARL on its websites or in its stores, the name and address of the customer, the order number, the date of order and the serial number of the product as a reference, must be free of defects of materials and fabrication, for a period of guarantee that corresponds to the time to initiate an action in conformity on this product. In the European Union, this corresponds to a period of two (2) years from the delivery of the product.

In case if the product proves to be defective during the warranty period, please contact Technical Support immediately, who will advise you on the procedure to follow. If the defect is established, the product must be returned to the place of purchase.

Under the terms of this warranty, the consumer's defective product must, at the request of Technical Support, be replaced or restored to functionality.

This warranty does not apply:

1. If the product has been modified, opened, altered, or damaged as a result of improper or abusive use, or negligence, an accident, normal use, or any other cause not related to a defect of material or construction.

2. During the warranty period, France Simulateur will not, in principle, provide any spare parts, as the support is the only one authorized to open and/or recondition any Moza Racing product.

3. If the product was used for a use other than domestic, including at professional ends or commercial ends (rooms of plays, trainings, competitions, events)

4. Under no circumstances, France Simulateur can not be held responsible for any direct or indirect consequences of the adaptation of accessories other than the brand MOZA Racing