RSeat N1 "ADVANCED COCKPIT"
Lastest 2016 product from the RSeat development team, the N1 is a new generation simulator built, like its little brother the RS1, with a modular design. Everything has been reviewed, including ergonomics, strength, comfort and upgradeability. The N1 will be your partner for long sessions of racing, whether you are a professional or an experienced enthusiast. This is the perfect chassis for you!
Support :

Specifications :
NEW!

Pedals with sliders for easy adjustment
Support PC, PS3, PS4, PS5, XBOX 360, XBOX One, XBOX Series X | S (check what's supported tab below)
Applicable for users from 127cm (4'2″) up to 200cm+ (6'67″+)
Seat carry weight up to 140kg (308 lbs)
Seating position Rally/GT
Modular Frame (You can upgrade with accessories)
Seat Sliders Included
Footprint dimensions: L x W x H 1815 x 640 mm. x 1305 mm. (71.45" x 25.2" x 51.4")
2 year Warranty on all RSeat Manufactured components including chassis and seat
100% Made in EU: Engineered, Designed and Manufactured in Europe.
The Seat :
Seat shell made of composite materials and finished in the same gloss color as the frame.
Leather comes in 3 color options (White, Black and Red), and Alcantara®
N1 Allow to recline the entire seat ±4°
Seat sliders allow to adjust it front-backwards ±90mm (3.54inch)
Highly wear resistant suitable for game race centers.
Chassis :
Frame step on the ground by 8 adjustable legs (37mm diameter each).
Casters Ready (M8 Thread)
Made of Mandrel Bend carbon steel tubes NPS 1-1/2 (Din 48.3mm)
Total height (with the seat): 1305 mm (51.4")
Total width: Rear: 640 mm (25.2")
Length: 1815 mm. (71.45")
Pedal plate width 364 mm. (13.62")
Pedal plate adjust from full flat up to 60°
Wheel mounting plate allow to adjust height of the wheel ±120 mm (4.72")
Slide pedals front-backwards with sliders (rails) ±120mm (4.72inch)
Slide The seat front-backwards with sliders (rails) ±120mm (4.72inch)
Net weight: 65 kg (143 lbs)
Gross weight 70 kg (154 lbs) The N1 with the packaging.
Ready for upgrades
Adjustability :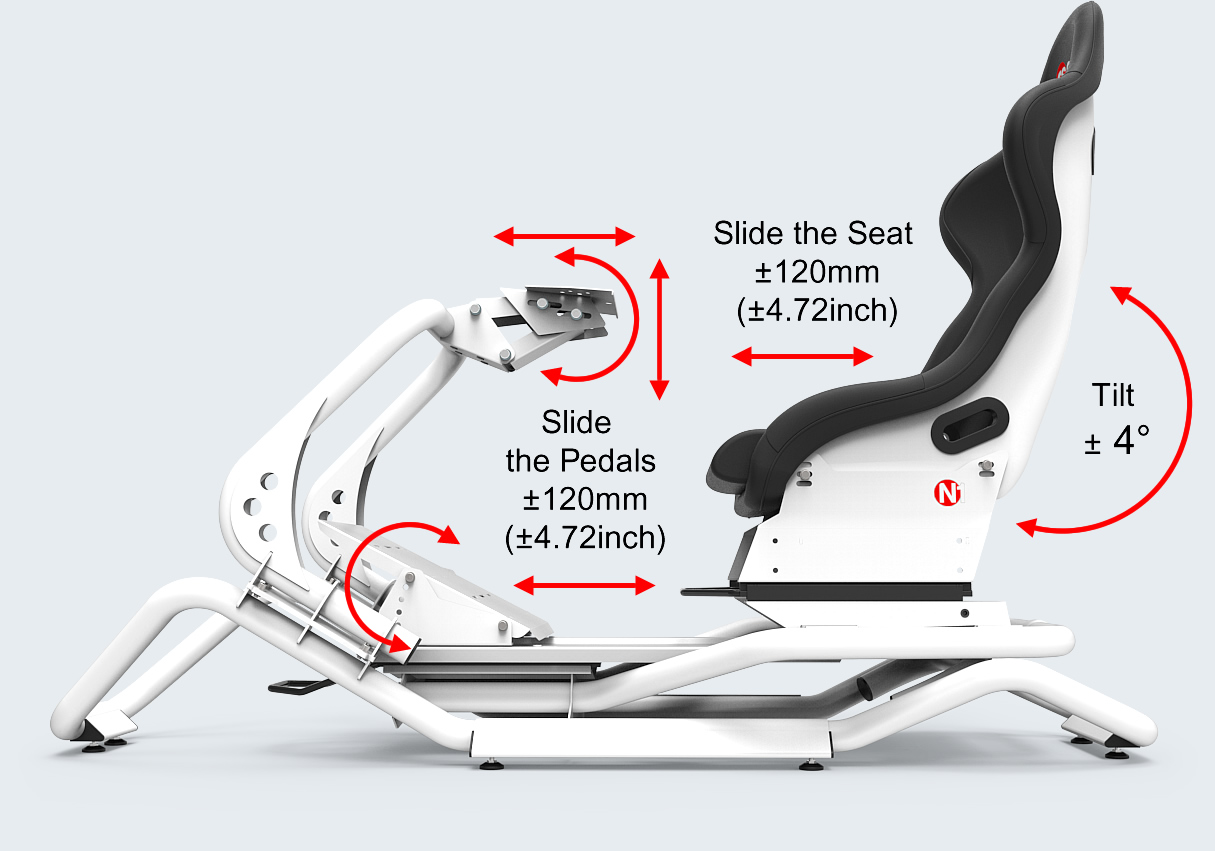 Available Upgrades (check Accessories tab below) :
1. Buttkicker mounting kit. Support Buttkicker ™ Gamer 2, Pearl ™ THMP1, ButtKicker ™ Simulation Kit, Earthquakesound® ShellShoxx and more..
2. Tablet and Buttonbox mounting kit. All way adjustable including tilt and angle.
3. Keyboard and mouse tray. All way adjustable including angle, tilt and height, user is able to place the keyboard and mouse tray in front of the wheel.
4. Speakers Mounting kit. Logitech Z906 Supported and more..
5. Shifter and Handbrake Upgrade kit. Support Thrustmaster TH8RS, TH8A Add-On Shifter, TSS Handbrake Sparco Mod – Fanatec ClubSport Shifter SQ (all versions), ClubSport Shifter, ClubSport Handbrake – Logitech G29 Shifter, G920 Shifter, G27 Shifter, G25 Shifter.
Additional upgrades include D-BOX Motion, TV/monitor stands for up to 3x47inch tv's.
What's Included :
Racing seat with Synthetic Leather available in 3 colors Black, Red, White, and Alcantara®
Chassis body (including seat sliders and pedal plate sliders)
Pedals Support
Wheel Support
Seat L mounts
Assembly instruction with tools and screws included to attach you wheel, pedals and shifter
Carton box and bubble wrap protection inside the box to prevent damages on transit. N.W 100kg
Packaging dimensions :
Box 1 Dimensions: L x W x H 185 x 65 x H30cm (72.84" x 25.6" x 11.8" ) G.W 70kg (154lbs)
Box 2 Dimensions: L x W x H 97 x 64 x H48cm (38.2" x 25.2" x 18.9" ) G.W 30kg (66lbs)
What's in the box :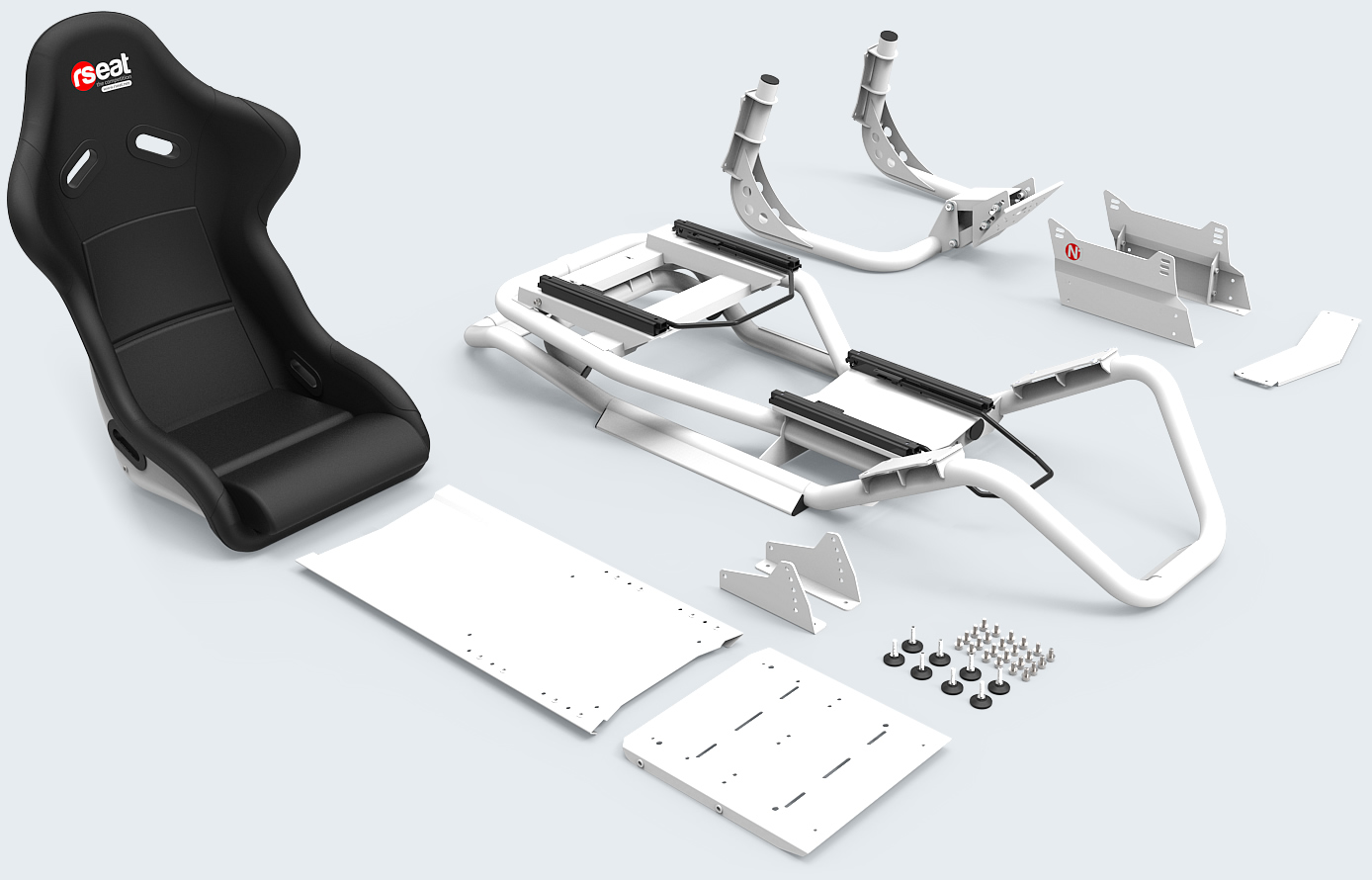 Support :
We provide on site support through ticket or live-chat.
Distributor network allow to have full support in your area.
Shipping information :
Warning: Shipping of this product is not possible by DHL , the length of 185cm and weight of 100kgs exceeds the standards for this shipping company.
Factory Stock
Factory Shipping
Factory Shipping
WHEELS

PEDALS

SHIFTERS - HANDBRAKES

FLIGHT STICKS AND OTHERS

Moza Racing R9, R16, R21 Direct Drive
Fanatec Podium DD1
Fanatec Podium DD2
Fanatec ClubSport (all models)
Fanatec CSL (all models)
Fanatec (all other models)
Thrustmaster (all models)
Logitech (all models)
Simucube 2 Sport, 2 Pro, 2 Ultimate
OSW Mige Motor
SimSteering 2

Moza Racing Pedals

Fanatec ClubSport Pedals V1/V2/V3, V3i

Fanatec CSL Elite Pedals
Fanatec (all other models)
Thrustmaster T-LCM Pedals
Thrustmaster T3PA Pedals
Thrustmaster (all other models)
Heusinkveld Sim Pedals Pro
Heusinkveld Sim Pedals Ultimate
Heusinkveld Sim Pedals Sprint
Logitech (all models)

Fanatec ClubSport Shifter
Fanatec ClubSport Handbrake

Thrustmaster TH8RS
Thrustmaster TH8A
Thrustmaster TSS Handbrake Sparco

Thrustmaster TSS Shifter Sparco

Heusinkveld Sim Shifter

Heusinkveld Sim Handbrake
DSD Pro Sequential Shifter 2015
RWHEEL Handbrake

Thrustmaster HOTAS Warthog Dual Throttles
Thrustmaster HOTAS Warthog Flight Stick
Thrustmaster TCA Sidestick Airbus Edition
Thrustmaster TCA Quadrant Airbus Edition
Thrustmaster T.16000M FCS
Thrustmaster TPR Rudder Pedals
Thrustmaster TWCS Throttle
Tablet up to 10.3 inch
Buttonbox up to 210 mm height
Keyboard/Mouse tray 710x195mm
Chassis monitor stand up to 49 inch 32:9

The Buttkicker (all models)