Bundle RS1 ULTIMATE XL
Brand:
RSEAT
Product Code:
KITRS1_WITH_ACCESSORIES_RSSTANDT3XLV2_BLACK
Weight:
119.00kg
Availability:

In Stock

Price:

1,414.00€

1,601.90€

Incl Tax: 1,696.80€
This packaging includes :

Presentation :
Trusted by thousands of happy customers and Simracers worldwide the RS1 is a simulator build in modular design, made in laser cut carbon steel and cnc bended round tubes which guarantees extreme rigidity and solidity. You will be able to upgrade and build your RS1 simulator all the way down from Basic rig up to Full motion. The RS1 Basic comes with Shifter mount and Seat Sliders included.

In addition you have all accessories supports : Buttkicker Mount, Tablet/Buttonbox mount, Keyboard and Mouse tray, Speakers Mount (Logitech® Z906 Support) and the RS STAND T3XL V2 black.

For full technical details visit our official website here
Support :

Available Upgrades :
5. Shifter Upgrade kit. Support Fanatec Clubsport Shifter, Thrustmaster HOTAS Warthog™ Throttle and Stick.
Additional upgrades include D-BOX Motion, TV/monitor stands for up to 3x47inch tv's.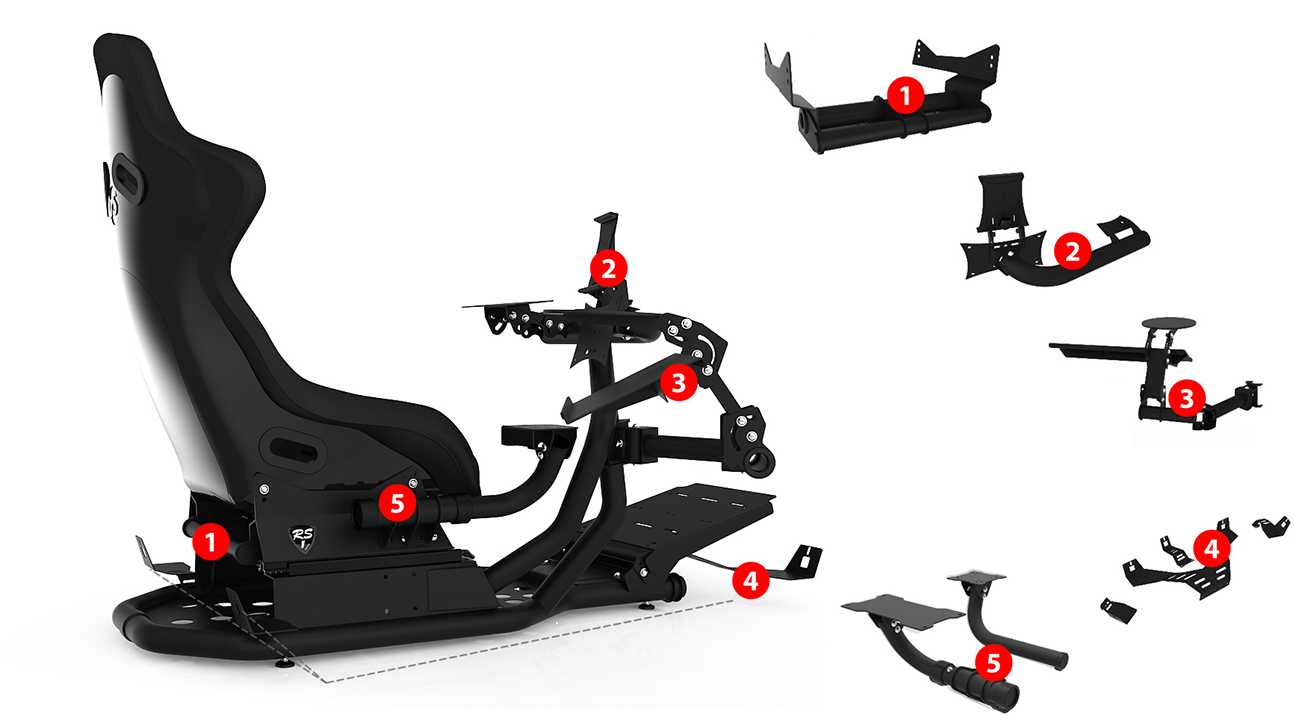 Specifications :
Support PC, PS3, PS4, PS5, XBOX 360, XBOX One, XBOX Series X | S
Seating position Rally/GT
Footprint dimensions: L/W/H 1300-1480 mm. x 688 mm. x 1100 mm. (51.2" – 58.27") x 27.1" x 43.3"
Wheels – Thrustmaster TS-PC RACER Ferrari 488 Challenge Edition, TS-XW Racer Sparco P310 Competition Mod, T80 Ferrari 488 GTB Edition, T-GT, T150 PRO ForceFeedback, TS-PC Racer, T300 RS GT Edition, T150 Force Feedback, T300 Ferrari Integral Racing Wheel Alcantara, TX Racing Wheel Servo Base, T300 Racing Wheel Servo Base,TX Racing Wheel Servo Base, T500RS, T300RS, T80 Racing Wheel, T300 Ferrari GTE Wheel, Ferrari 458 Spider, TX Racing Wheel Ferrari 458 Italia – Fanatec ClubSport Wheel Base Servo V1, V2, V2.5, CSL Elite Wheel Base, Porsche 911 GT2 Wheel, Porsche 911 GT3 RS V2 Wheel, Forza Motorsport CSR Wheel – Logitech G29, G920, G27, G25 – NEW! Fanatec Podium Wheel Base DD1, NEW! Fanatec Podium Wheel Base DD2 and more..
Pedals – Thrustmaster T500RS (F1/GT), T300RS, T80, T300 Ferrari GTE, Ferrari 458 Spider, T3PA-PRO (F1/GT), T3PA, TX Racing Wheel – Fanatec ClubSport Pedals V1/V2/V3, CSR Elite Pedals, CSR Elite Pedals Inverted, CSR Pedals, CSL Elite Pedals LC – Logitech G29 Pedals, G920 Pedals, G27 Pedals, G25 Pedals – Heusinkveld Sim Pedals Pro and more..
Shifters – Thrustmaster TH8RS, TH8A Add-On Shifter – Fanatec ClubSport Shifter SQ (all versions), ClubSport Shifter – Logitech G29 Shifter, G920 Shifter, G27 Shifter, G25 Shifter – DSD Shifter, and more..
Buttkicker™ Gamer 2, Pearl™ THMP1, ButtKicker™ Simulation Kit, Earthquakesound® ShellShoxx and more..
All tools and screws to attach your wheel, shifter and pedals are provided.
Logitech® Z906 5.1 Sound system
D-BOX ™ motion Ready - kit 3250i, 4250i
Tablet/Buttonbox support (need upgrade kit. See below)
2 year Warranty on all RSeat Manufactured components including chassis and seat
100% Made in EU: Engineered, Designed and Manufactured in Europe.
The Seat :
Seat shell made of composite materials and finished in gloss black.
Leather comes in 3 color options (White, Black and Red), and Alcantara® as an option
RS1 Allow to recline the entire seat ±4°
Seat sliders allow to adjust it front-backwards ±90mm (3.54inch)
Highly wear resistant suitable for game race centers.
Chassis :
Made of Laser cut carbon steel and cnc bended round tubes.
Comes in two color options (Black matte or White matte powder coat paint).
Frame step on the ground by 4 adjustable legs (37mm diameter each).
Total height (with the seat): 1100 mm (43.3")
Total width: 688 mm (27.1")
Lenght: 1300 – 1480 mm. (51.2" – 58.27")
Pedal plate width 350 mm. (13.78")
Pedal plate adjust from full flat up to 60°
Whell mounting plate allow to adjust height of the wheel ±8 cm (3.15")
Slide pedals front-backwards ±90mm (3.54inch)
Net weight: 42 kg (92.6 lbs)
Gross weight 50 kg (110.2 lbs) The RS1 with the packaging.
Box dimensions L/W/H 118cm x 67cm x 62cm (46.45" x 26.38" x 24.41")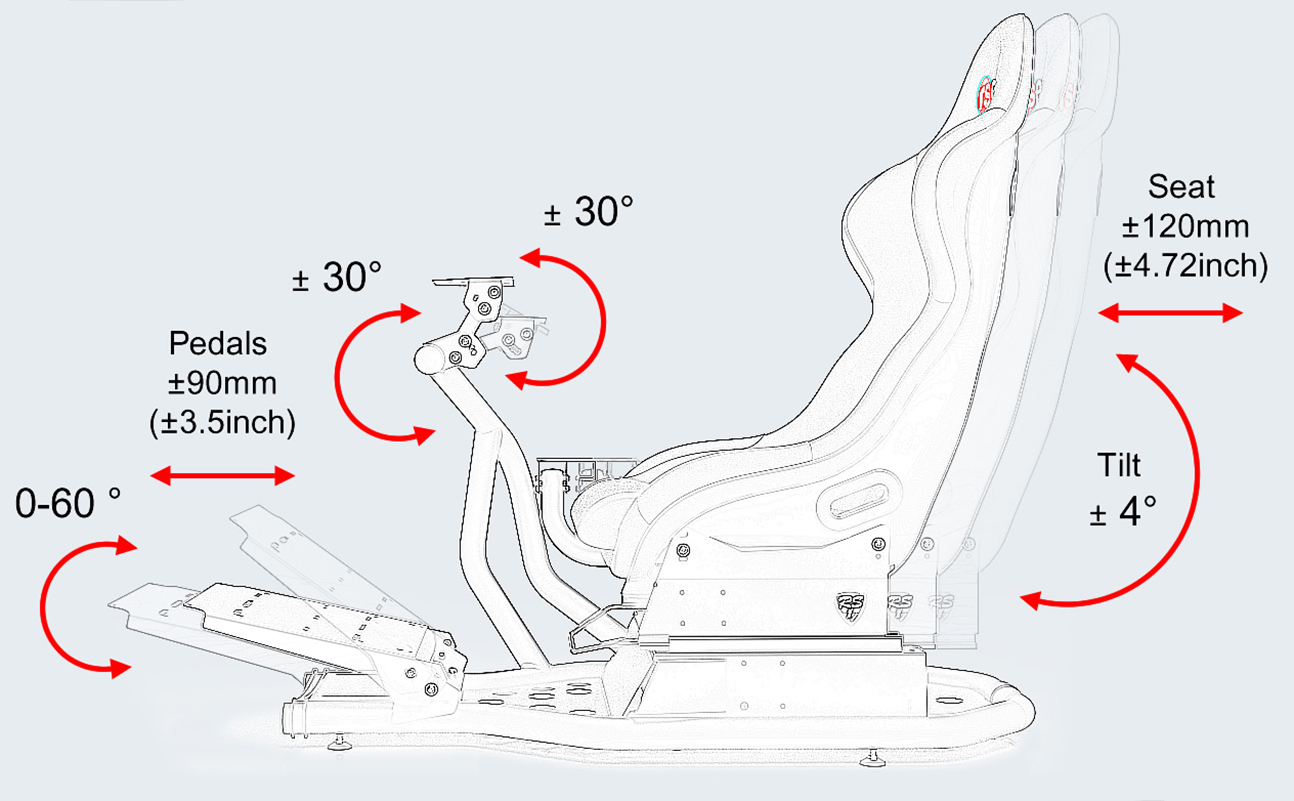 Hardware :
All tools and screws to attach your Wheel, pedals and shifter are provided.
Detailed assembly instructions.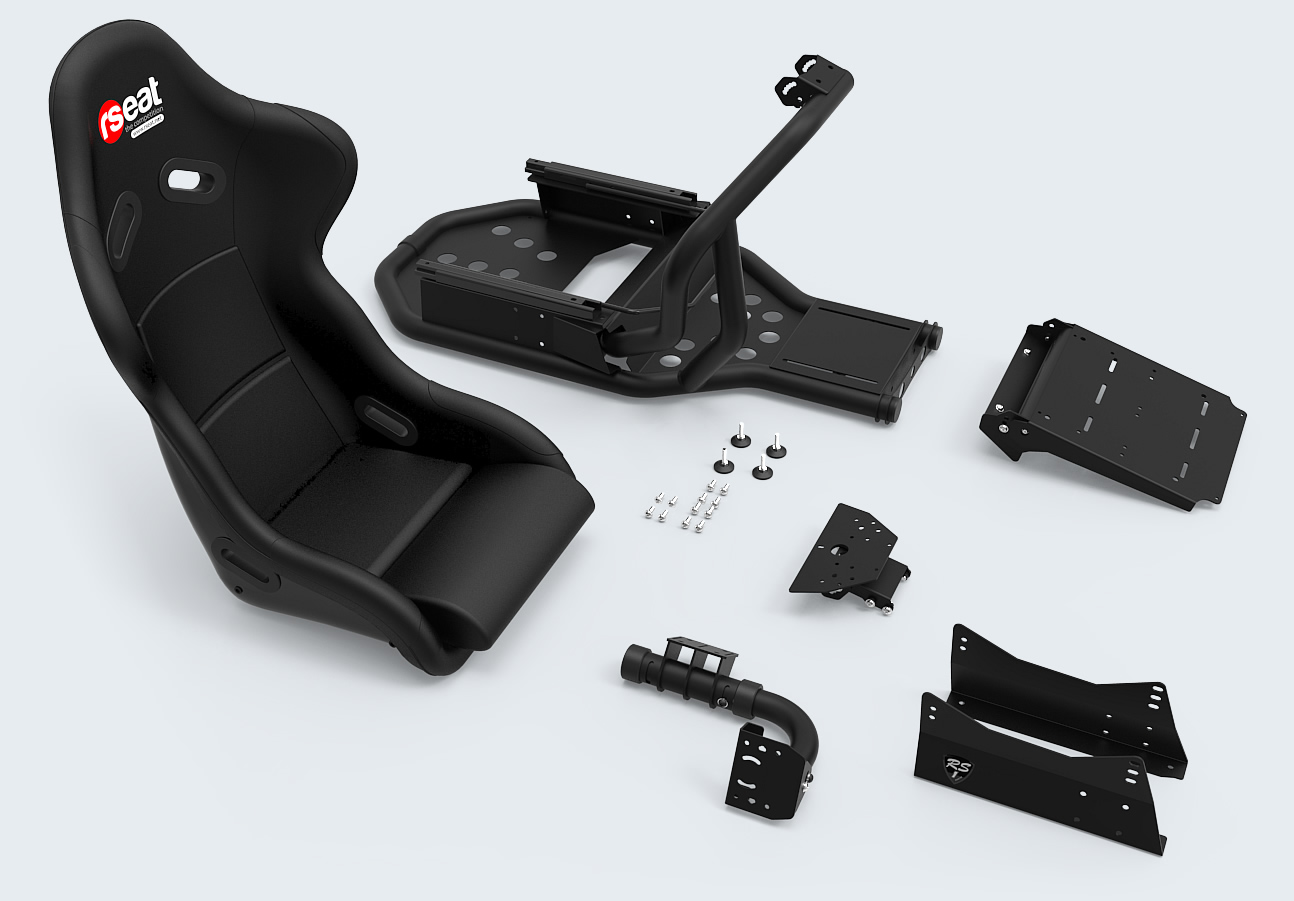 RS1 Dimensions :
RS1 Footprint dimensions with our single and triple stands. Recommended space needed to fit the RS1 depending on the configuration..
1. RS1 + all accessories + RS STAND T3XL for up to 3x47 inch TV's - L1=(Min=1900mm/74.8inch, Max=3000mm/118inch) L2=(Min=1500mm/59inch)
2. RS1 + all accessories + RS STAND T3L for up to 3x32 inch TV's - L1=(Min=1600mm/63inch, Max=2100mm/82.7inch) L2=(Min=1500mm/59inch)
3. RS1 + all accessories + RS STAND S3 for up to 1x65inch TV - L1=1600mm/63inch L2=(Min=1500mm/59inch)
4. RS1 + all accessories L1=688 mm. (27.1inch) L2= 1300-1480 mm. (51.2inch – 58.27inch)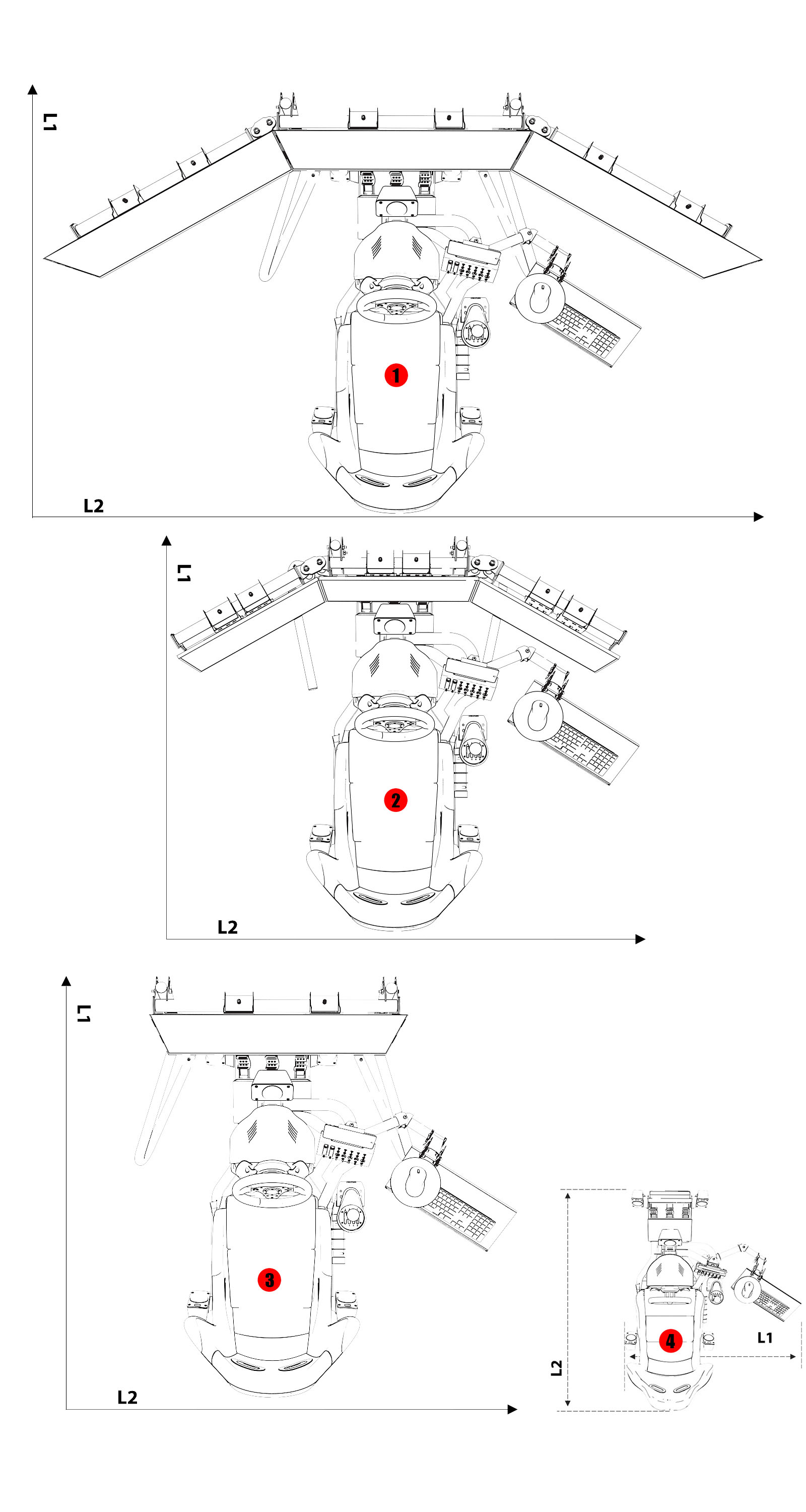 Support :
We provide on site support through ticket or live-chat.
Distributor network allow to have full support in your area.
Write a review
Your Name:
Your Review:
Note: HTML is not translated!
Rating:
Bad
Good
Enter the code in the box below: