Introduced in 2012, the RSeat RS Formula V2 is an upgrade of the RSeat RS Formula V1 and is used by many of our customers, prestigious car manufacturers, game centers, event centers and others, it retains the same design that made the RS Formula V1 a Bestseller.
This version 2 is now featuring many new features such as a new stiffer pedal support, a more stable frame thanks to a thicker metal plate base, a seat adjustment on sliders, a new Buttkicker support (optional) and a Shifter / Button box support (optional). The steering wheel support is pre-drilled for compatibility with a large number of steering wheels.
Its unique design and extremely comfortable seating for long racing sessions will provide you with an ideal tool for the use of your pedals and steering wheel. With the RS Formula the feeling of being a single-seater driver is now accessible to you.
As accessories: Buttkicker support, Shifter / Button box support, D-Box dynamic system with 4 actuators and electric adjustment of seat and pedals, RS Stand for screens up to 65" or triple up to 3x47".

Specifications :
Support PC, PS3, PS4, PS5, XBOX 360, XBOX One, XBOX Series X | S
Footprint dimensions: L/W/H 1950-2150 mm. x 620-1300 mm. x 980 mm. (75.59" - 84.64") x (24.40"-51.18) x 38.58".
Fully adjustable pedals support.
Fully adjustable wheel support mount.
Wheels – Thrustmaster TS-PC RACER Ferrari 488 Challenge Edition, TS-XW Racer Sparco P310 Competition Mod, T80 Ferrari 488 GTB Edition, T-GT, T150 PRO ForceFeedback, TS-PC Racer, T300 RS GT Edition, T150 Force Feedback, T300 Ferrari Integral Racing Wheel Alcantara, TX Racing Wheel Servo Base, T300 Racing Wheel Servo Base,TX Racing Wheel Servo Base, T500RS, T300RS, T80 Racing Wheel, T300 Ferrari GTE Wheel, Ferrari 458 Spider, TX Racing Wheel Ferrari 458 Italia – Fanatec ClubSport Wheel Base Servo V1, V2, V2.5, CSL Elite Wheel Base, Porsche 911 GT2 Wheel, Porsche 911 GT3 RS V2 Wheel, Forza Motorsport CSR Wheel – Logitech G29, G920, G27, G25, NEW! Fanatec Podium Wheel Base DD1, NEW! Fanatec Podium Wheel Base DD2, and more..
Pedals – Thrustmaster T500RS (F1/GT), T300RS, T80, T300 Ferrari GTE, Ferrari 458 Spider, T3PA-PRO (F1/GT), T3PA, TX Racing Wheel – Fanatec ClubSport Pedals V1/V2/V3/V3i, CSR Elite Pedals, CSR Elite Pedals Inverted, CSR Pedals, CSL Elite Pedals LC (on request) – Logitech G29 Pedals, G920 Pedals, G27 Pedals, G25 Pedals –Heusinkveld Sim Pedals Pro and more..
Shifters – Thrustmaster TH8RS, TH8A Add-On Shifter, TSS Handbrake Sparco Mod – Fanatec ClubSport Shifter SQ (all versions), ClubSport Shifter – Logitech G29 Shifter, G920 Shifter, G27 Shifter, G25 Shifter – DSD Shifter – and more..
Ultimate stability at any point of the rig including wheel mount, pedals plate and seat.
Applicable for users from 150cm (4'11″) up to 200cm+ (6'67″+).
Seat carry weight up to 130kg (286 lbs).
No wheel deck or pedals plate wobble !
Very quality materials used.
Seat is highly wear resistant.
RS Formula V2 comes with seat sliders included.
100% Made in EU: Engineered, Designed and Manufactured in Europe.
Available Upgrades :
1. Keyboard and mouse tray. All way adjustable including angle, tilt and height.
2. Buttkicker mounting kit. Support Buttkicker ™ Gamer 2, Pearl ™ THMP1
3. Speakers Mounting kit. Logitech Z906 Supported and more..
Additional upgrade shifter, Tablet and Buttonbox upgrade kit
Additional upgrades include TV/monitor stands for up to 3x47inch tv's.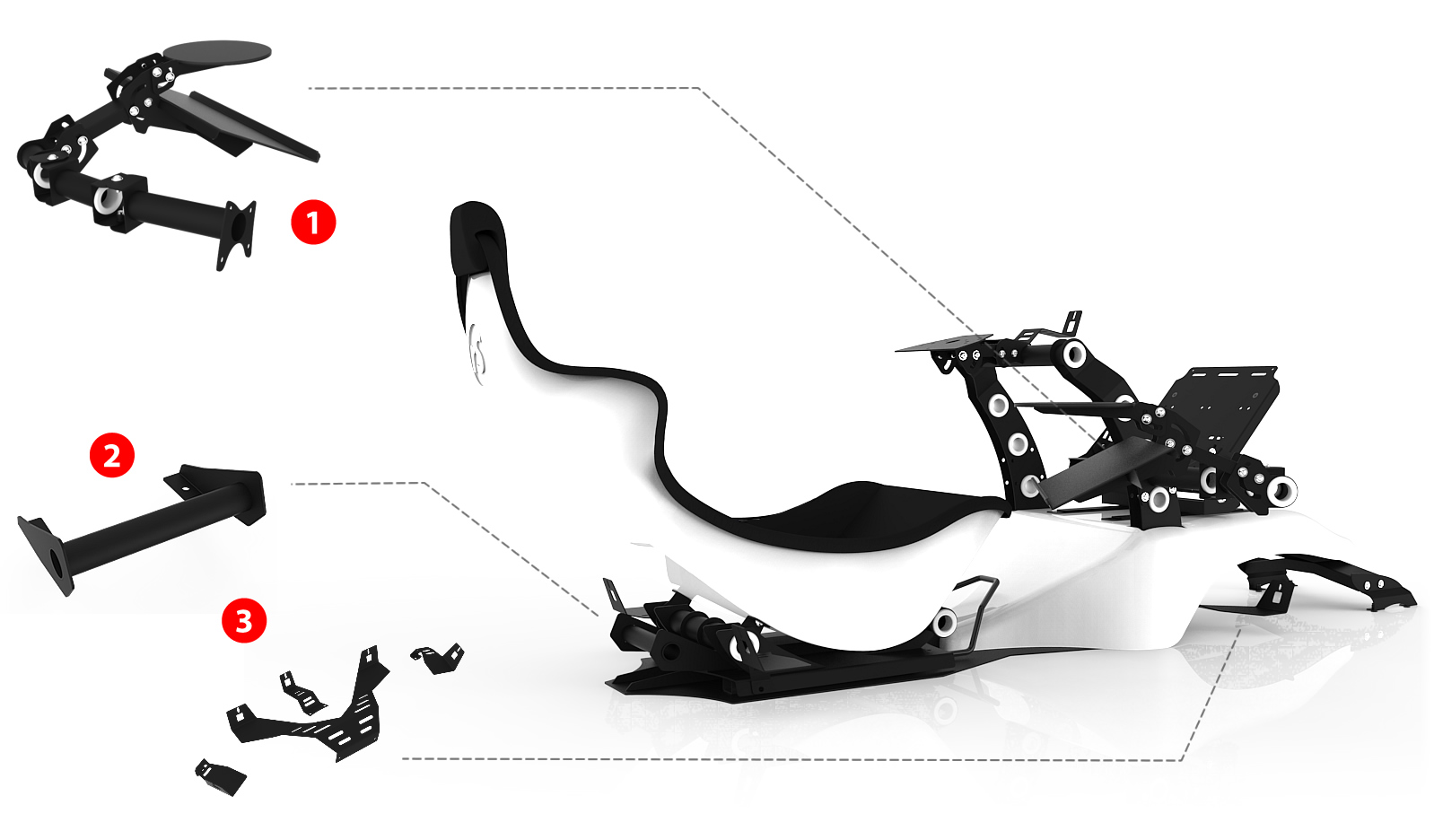 The Seat :
Seat shell made of composite materials and finished in gloss White.
Leather comes in Black leather
Seat Sliders
Seat is designed to replicate formula car seat
Seat slides front-back ±120mm (4.72inch)
Highly wear resistant suitable for game race centers.
Headrest included.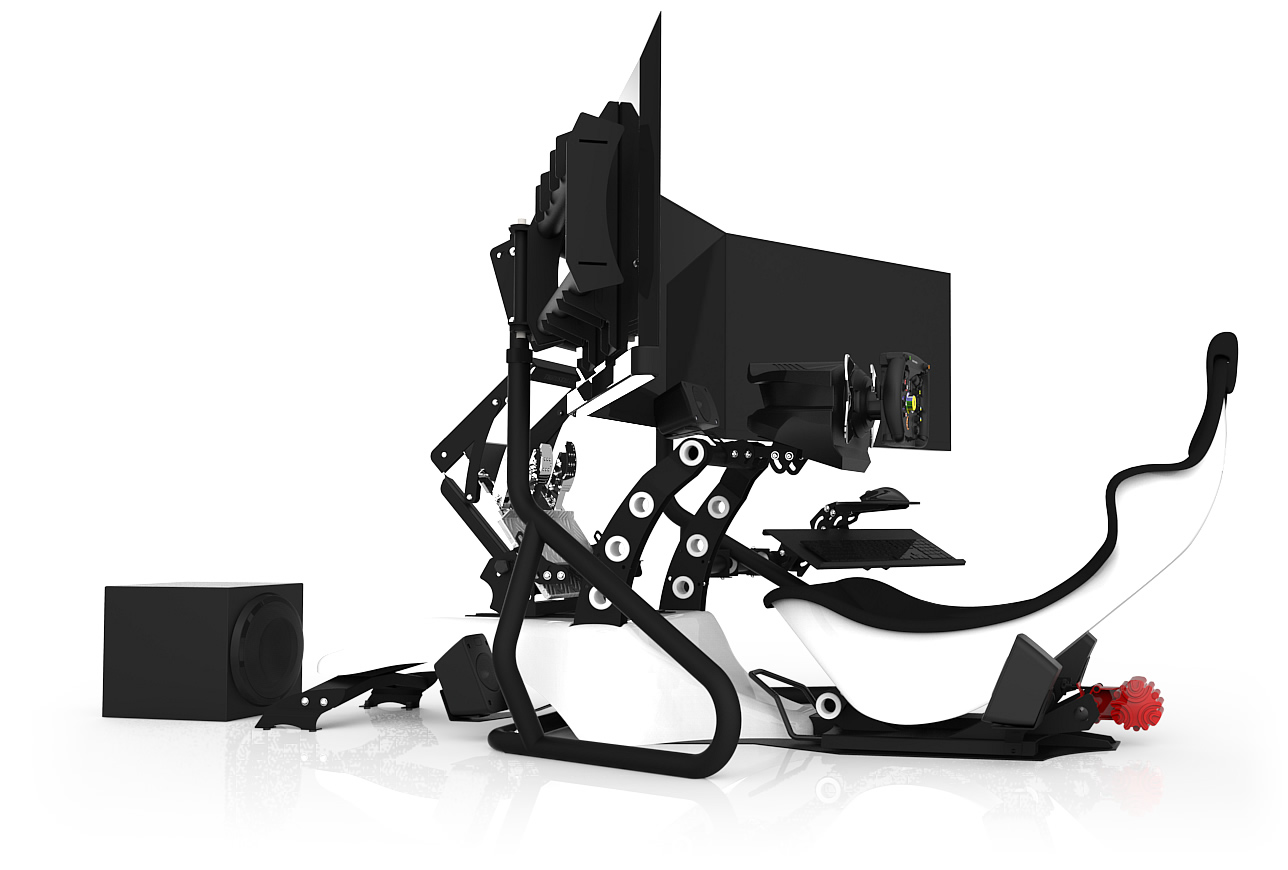 Chassis :
Made of Laser cut carbon steel and cnc bended tubes.
Comes in black matte powder coat paint.
Frame step on the ground by 10 plastic feets (20mm diameter each).
Total height (with the seat): 980 mm (38.58")
Total width: 620-1300* mm (24.40"-51.18) (*with the keyboard/Mouse tray)
Lenght: 1950-2150 mm. (75.59" - 84.64")
Pedal plate width 350 mm. (13.78")
Pedal plate adjust from full flat up to 60°
Whell mounting plate allow to adjust height of the wheel ±8 cm (3.15")
Slide pedals front-back ±160mm (6.23inch)
Net weight:

60 kg (132.27)

Gross weight 70 kg (154) The RS Formula with the packaging.
Box dimensions L/W/H 119cm x 65cm x 65cm (46.9" x 25.6" x 25.6")

Keyboard / Mouse tray Upgrade Kit :
Made of laser cut carbon steel and round tubes.
Fully Adjustable in hight, tilt and possition.
Comes assembled from the factory.
Comes in black matte powder coat paint.
Keyboard tray dimensions 500 mm. x 205 mm. (19.68" x 8.07")
Mouse tray diameter - 200 mm. (7.87")
Weight: 6kg (13.23 lbs)

Buttkicker® Mount Upgrade Kit :
Support Buttkicker™ Gamer 2, Pearl ™ THMP1 and Earthquakesound® Shell Shoxx.

Speakers Mount Upgrade Kit :
Support Logitech Z906 5.1 Sound system

Shifter, Tablet and Buttonbox Upgrade Kit :
Shifter support for Thrustmaster TH8RS, TH8A, Logitech G25/G27, Fanatec Clubsport Shifters
Buttonbox mount support to hardmount: DSD Track Boss, DSD Black Max, DSD Black Max II Buttonboxes.

Hardware :
All tools and screws to attach your wheel and pedals are provided.
Detailed assembly instructions.
Factory Stock
Factory Shipping
Factory Shipping